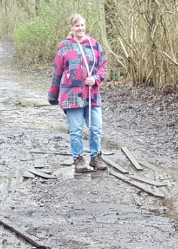 Time outdoors has become a lifeline for many of us during lockdown. Jane Weston has been making it that little bit easier, after working to get paths in Chorley South West resurfaced.
The footpaths, like those between Woodlands Meadow and Firtree Close (pictured), are popular with local walkers and dog owners. But many were in dire need of resurfacing in February.
Jane says "This path was impassable for prams and wheelchairs in the winter months. I reported it to the council and asked them to make sure it is accessible for all local residents."
Jane is currently self-isolating, but Andy Hunter-Rossall has been to see the results of the resurfacing work.
Andy says, "Before lockdown the paths were often muddy and inaccessible to prams and wheelchairs. Now they are a great way to enjoy our daily exercise and to access the green spaces around Chorley."